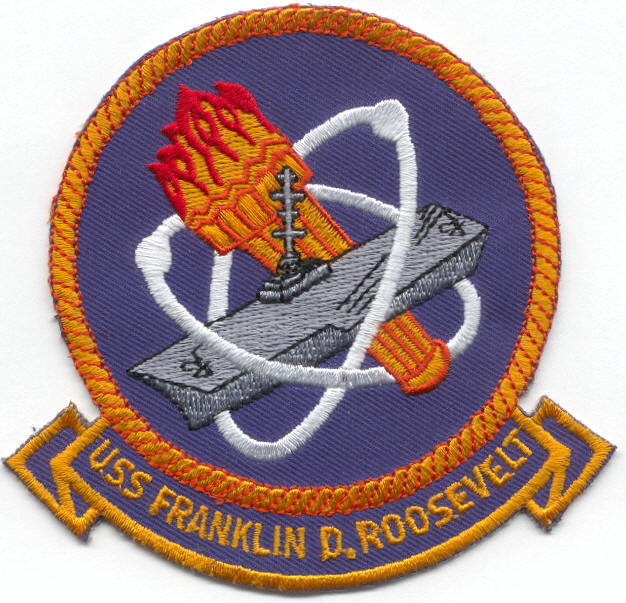 WELCOME ABOARD
THIS IS THE HOMEPAGE WEBSITE OF USS FDR CV 42 REUNION, INC.
ATTACK AIRCRAFT CARRIER 1945-1977
A Shipmate Looks

Back
A New Chapter of

Len

Gaffga's Story Has Been

Added
I need your help. I have updated the Reunion Photos so they are grouped by year but have some that I don't know what year they took place. I also welcome additional reunion photos which I will be happy to incoroporate onto the site. Please respond to Webmaster.
THE 2018 REUNION HAS CONCLUDED: CLICK "REUNION PHOTOS" TAB AT TOP OF THIS PAGE TO VIEW THE PICTURES
G.J. Thumudo has brought an important scam to our attention. This originally was broadcast on NBC Nightly News. Click link to the right.
Specific reunion related info appears in the links below:
POD...Daily Events TOURS BANQUET MENU
MEMBERSHIP INFO REUNION SIGN-UP SHEET
READ THE 2018 REUNION SPECIAL EDITION
READ THE 2018 SPRING NEWSLETTER
WELCOME ABOARD TO OUR NEWEST MEMBERS
Anthony Vaccaro V-2 Cats 62-66 Kenner, LA
Mike Grimshaw (Wife Cindy) OE Div 65-68 Dallas,TX
Jim Plotz (Wife Linda) B-Div 67-68 Avon, OH
Charles Craig CR-Div 63-64 Sangerville, ME
Wayne Thompson AMID 71-72 Gold Hill, NC
Ernest Burgher (Wife Linda) 2nd Div 69-72 New York State
Mike Lanzano (Wife Dee) OE Div 63-66 Milford, DE


CLICK HERE If your looking for a shipboard buddy or to sign the FDR Guest Book so others can find you.
Our Officers:
President: Bob Siefker Bio Vice Presiden: Bill Solt Bio
Secretary: Scott Davison Bio Treasurer and Webmaster:
Master-at-arms: Phil Dyer Bio Steve Dukes Bio
If you encounter any website problems, have suggestions, or photos to share please contact Webmaster or click the Contact Us tab at top of page to direct a question to a specific officer.